Nicholas Folland with his artwork, Am I Missing Something…2014. Timber cabinet, chandelier, ceramic basin, refrigeration unit, 12v lighting, 150 x 72 x 48cm.
Courtesy the artist and Tolarno Galleries Melbourne. Photo by Saul Steed for AGSA.
A lasting legacy for Australian artists
A golden passport to success in the art world sounds too good to be true, but for 130 Australian artists over the past 25 years, UniSA's Anne & Gordon Samstag International Visual Arts Scholarships have made this a reality.
For Nicholas Folland, a 1999 Samstag scholar, his time is split between creating his own spectacular works of art and educating a new wave of artists.
Currently the Head of Contemporary Studies and Sculpture at Adelaide Central School of Art, Folland says while he dreams of spending all his time in a studio, he also thrives on the energy of ambitious students.
"I feel an incredible responsibility to rigorous, relevant and quality education, so as the Head of Sculpture and the newly formed Contemporary Studies departments, I work hard to negotiate the needs of a vast range of students, staff and programing," Folland says.
"It's a constant challenge to ensure that all of the pieces fit together, but it's a fantastic reward to see graduates achieving their own goals and dreams as professionals."
Folland completed a UniSA Bachelor of Visual Arts in 1999 before attending a research program at the Piet Zwart Institute, Rotterdam in the Netherlands, through his Samstag Scholarship.
"The experience gave me confidence," he says. "My ideas were put to the test by the presence of so many other ideas that I had not previously considered, and while this scrutiny was initially daunting it was also refreshing and motivating.
"It wasn't just the ideas discussed at Piet Zwart. I travelled through a dozen or more countries and I was continually confronted by experiences that were initially mysterious and daunting. It necessitated clarity and strengthened resolve. On returning to Australia I was up for any challenge."
Several years later he completed a Master of Visual Arts at the University of Sydney.
In 2013, Folland was awarded the Wakefield Press South Australian Living Artists monograph and its release in 2014 coincided with a major exhibition of his work, curated by Lisa Slade at the Art Gallery of South Australia.
"As a South Australian artist, these are opportunities that you dream of – the exhibition was a chance to share my work with an enormous and often new audience in my home town, and the monograph opens my work up to an audience around Australia and the world," he says.
And while the world still beckons, Folland says Adelaide is where he is most at home.
"I'm often tempted to leave Adelaide and I spent several years living in Sydney, but the reality is that I'm incredibly bonded to this place," he says.
"The world is made small by technology and travel, so Adelaide is home-base and studio, but for the past decade I have been represented by interstate galleries – Ryan Renshaw Brisbane and Tolarno Galleries Melbourne.
"I've also been privileged to exhibit some of my most ambitious work at the Samstag Museum."
Folland's work will feature at the Samstag again in 2016, when the Museum presents Quicksilver: 25 years of Samstag Scholarships. A legacy publication associated with the Samstag's celebratory 25th birthday exhibitions will also be released during the year.
Samstag Museum Director, Erica Green, says Quicksilver reflects on the impact of the scholarship program and its scholars on the trajectory of Australian contemporary art.
"The importance of the Samstag Scholarships within the ecology of Australian art can't be underestimated," Green says. "The Samstag bequest is a legacy that with prudent management will continue in perpetuity.
"Samstag acts a bit like a beacon for our emerging artists. The very existence of the scholarships provides an achievable goal, and points to the wonderful opportunities that Australian artists
can aspire to, if they are willing to chance their arm.
"Gordon's remarkable bequest is a generosity that ranks as the greatest gift towards the development and education of Australian artists."
Extract of an article by Katrina Phelps, published in the University of South Australia's Enterprise magazine
Sarah Snook has been cast in Ibsen's 'The Master Builder' to give Ralph Fiennes a 'run for his money'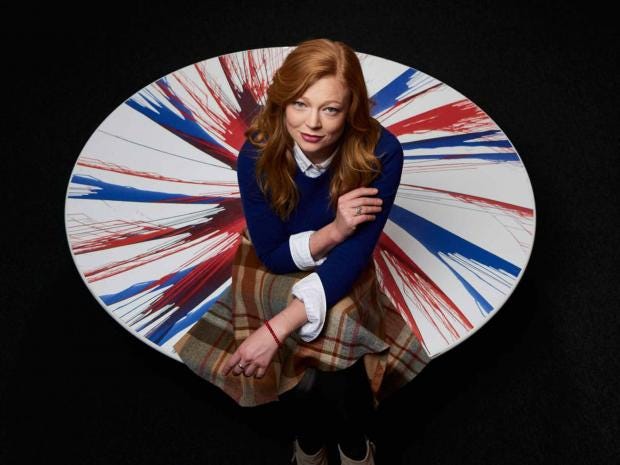 Sarah Snook will be a new name to British theatre audiences. She makes her London debut in The Master Builder this week and those coming to London's Old Vic to see Ralph Fiennes may well leave talking about the rising Australian star.
Describing her as a mix of Judi Dench and Judy Davis, he said Snook was cast "to give Ralph a run for his money".
Matthew Warchus, artistic director of the Old Vic, certainly believes the 28-year-old is a match for the veteran Fiennes in this revival of Henrik Ibsen's late work.
Fiennes plays Halvard Solness, the master builder of the play's title and Snook plays Hilde Wangel, a young woman obsessed with Solness. She has returned to collect on a promise she says he made a decade earlier.
The play, written in 1892, is believed to be Ibsen's most autobiographical, partly inspired by an infatuation with a girl he met on holiday.
The part presented a few challenges for Snook. "When I first read the character, she was not someone I liked or felt I knew how to do it," she says. "Sometimes a character jumps off the page, but this didn't. I didn't really like the character, and it's harder to become her if you feel like that. Although, now I love her."
Hilde initially reminded Snook too much of girls she did not like in high school, "or people I've had around me I felt I couldn't trust because they're too capricious", she says. She laughs when I ask if she is referring to hanging out with actors.
"I created more of a history for her around what person in their right mind spends 10 years pining for someone they may have only met once. She constantly changes form to protect herself or to escape."
For Hilde, the master builder is her knight in shining armour. "At the centre of it there's this dark but spiritual, unstoppable attraction between them, which is wrong but it is right," says Snook.
Snook has enjoyed the rehearsal process with Fiennes. "Ralph is great; he's very intense but it's not a bad thing. He's a thinker; he's so prepared and able to do anything on stage," she said. "I feel we work in similar ways. Try something and throw it out if it doesn't work rather than overthinking it. He's more of a sensorial person."
At a time where her star is on the rise in films why is she spending more than a month on the London stage? "I get asked that all the time. But I respond, why would I not do this?
"There are so many great theatres here, like the Old Vic, and I've always known about them intuitively. So of course I wanted to do it. Who would I be to say no to that; it's ridiculous?"
As an actor with red hair, she has been called "the new Emma Stone", and as an Australian "the next Cate Blanchett".
Those who have noticed both have dubbed her "the next Nicole Kidman". Yet, she is determinedly making her own name on television and film and now stage. The next few weeks offer British audiences a great chance to become more familiar with Sarah Snook.
Extract of an article by Nick Clark of http://www.independent.co.uk/Tuesday 2 February 2016